poundWISHES has launched our wishlist registries for rescue pets, and it has surpassed our expectations. We have been overwhelmed with the positive response and generosity from our animal-loving community. And we are grateful that we're able to help animals in more ways than ever before. Animal lovers who want to make a difference now, have the option to choose how they want to give back to a rescue pet in need:monetary donations for and individual pet's urgent medical needs or purchases from an rescue pet's wishlist. In the past few months we have successfully improved the lives of over 175 pets by fulfilling their wishlists dreams! Thank you to everyone who has supported rescue animals through poundWISHES! are Meet Dozer, Kenzie, Marky, Gypsy, and Rudy - just a few animals who have benefited from the new wishlist feature -- and see how you've helped them transform!
Dozer:
Dozer came from a past of little love and severe neglect. When Illinois English Bulldog Rescue got ahold of him, he was diagnosed with calcinosis cutis and a deep skin infection. He had lesions all over his body. In addition to his skin issues, he still has severe interdigital cysts on all four paws, in between multiple toes. Rescuers had him on many medications and went through a lot of treatments for his medical issues. They knew his healing was going to take some time.
With all this in mind, we were able to add some items to his wishlist registry that would ease his healing process. We added products like soothing oatmeal shampoo and epsom salts, to give his skin infection some relief. Our amazing donors made sure that Dozer was able to receive these products and much more! Dozer and Illinois English Bulldog Rescue express their gratitude to those who donated, "Thank you so much to everyone who showed Dozer so much kindness and support! He received a lot of his WISHlist items today and he is loving all of it!"
Dozer still needs his medical bills paid off though; if you're keen to help, you can get involved by supporting him HERE.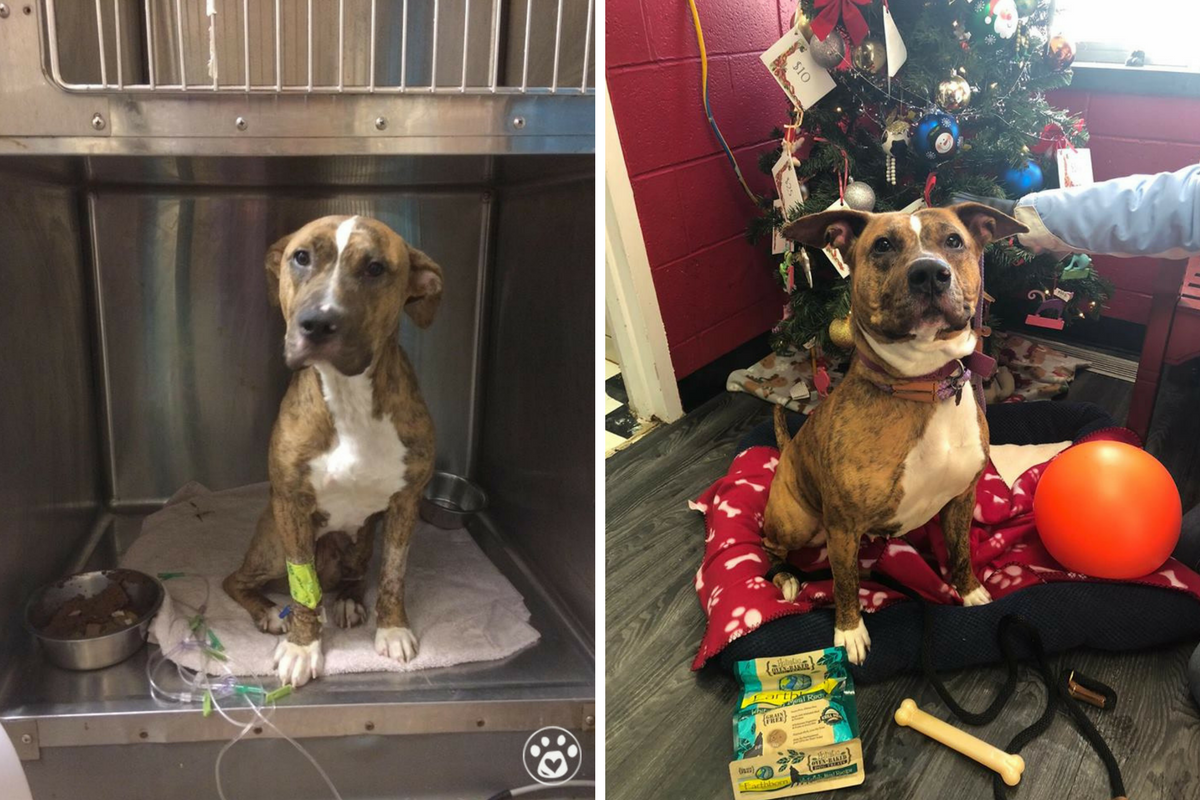 Kenzie:
When Kenzie was rescued, she had a fractured femur that needed to be repaired right away. When she returned to the shelter she was very weak. Kenzie would not eat or drink and she became extremely ill with parvo. She then had to recover from her femur surgery and fight off parvo at the same time. This sweet girl had the will to live and be loved, and she showed everyone that she was worth it.
People from all over sent her items through her wishlist registry, and she even earned enough funding to help with her medical bills. Kenzie received everything from blankets, a leash, treats, and a toy bone! She was able to be adopted by a loving family and she now has a forever home of her own. Dreams really do come true when people come together and help.
Marky:

With a new baby on the way and a puppy in the home, Marky ended up in the shelter. He needed to have mammary tumors removed and a cherry eye repair done. Almost Home-No Kill shelter worked hard to comfort his heart and rebuild his spirits, while also getting him the medical treatments he needed.
If it wasn't for amazing supporters stepping up to help Marky, he would have never received a new plush bed, yummy treats, toys, and new bowls! Marky found a new family that fell head over heels in love with him and they can't wait to spoil this sweet boy in their home. They have already found a vet for him that will monitor his health to ensure he is never neglected again. Marky has a long life ahead of him and he couldn't be happier in his new forever home.
Gypsy:
Little Gypsy was found in the pouring rain; she did not seem to move out of one spot for several hours. Luckily, the little soaking wet pup was brought into TCAA's care, where she was bathed and shaved, as her fur was caked with pus and blood from countless oozing hotspots covering her small body. The yeast scent was intense and her skin was inflamed from head to tail. It was apparent that she had been suffering for some time. Shaving her hair allowed her skin to dry out. And with a couple of baths a week, the yeast was kept down.
poundWISHES was able to fulfill little Gypsy's Wishlist needs with items like soothing conditioner, hot spot cream, and fleece vests to keep her warm while her skin healed. We are happy to announce that her foster family decided to adopt her and provide the care she so badly needed! She's happy, playful, and her hair is growing back, over new healthy skin. TCAA reached out to us to thank those who help Gypsy, "Thank you @poundWISHES for sending us these items on Gypsy's wishlist! We will make sure they reach her, and if she no longer needs them, they will help the next dog in line."
Rudy:
Rudy was found as a stray. While her rescuers were looking for her owners, she suddenly vanished. Rescuers hoped she had gone home, but two weeks later she returned, now appearing starved and nearly dead. They brought her to Rose Acres Rescue to keep her from being euthanized.
She was not spayed, norchipped, had poor dental, was heartworm positive, was severely malnourished, and had shoulder and hip injuries from being struck by a car. Rescuers had to help her to her food bowl. They added nutritional foods to her diet and changed her feeding pattern. She soon gained some weight and was starting to feel very happy with constant tail wags.
When Rudy was struggling, her supporters were there to make sure she had everything she needed. Rose Acres Rescue stated, "Rudy received toys and a new comfy bed from her poundWISHES Pet Registry which were kindly donated by our amazing supporters. She truly is the best little dog. Thanks to poundWISHES, we were able to raise her full wish amount of $1,500 for her vet care, too."
Enabling animal lovers to give back through product purchases has been beneficial on both sides. Donors have extra transparency in the way they give, and every rescue pet in need gets much-needed products.
Additionally, when animal lovers purchase products from a rescue animal's wishlist,they're not only helping the animal, they're also potentially helping someone who may not be able to afford these wonderful items. Many of these pets like Gypsy and Marky were able to take their wishlist products with them to their forever homes! You can continue purchasing items to help transform a rescue pet in need by visiting poundwishes.com/wishlists.
If you just love animals and want to give back with a monthly donation, you can join our amazing community of animal lovers by becoming a wishpacker at poundwishes.com/wishpack. You have the opportunity to transform a rescue pet with kindness!
We have a core belief at poundWISHES: if you let kindness and compassion into your life, happiness will follow. Together we can do small things with great love and make a sad story happy. Watch our video HERE on how you can help.