Fifty inches of rainfall. Life-threatening floods. 135mph winds. We now all know about the devastation of Hurricane Harvey and the countless animals without homes. Like many citizens across the US, poundWISHES was heartbroken by the catastrophic natural disaster and was moved to help. As such, we found 21 animal welfare organizations across the US actively involved in relief efforts and issued monetary grants to support them. One of these grant recipients is the Humane Society of Louisiana.
With thousands upon thousands of pets in need, poundWISHES is thankful for the work of the Humane Society of Louisiana. The organization's amazing Hurricane Harvey relief efforts transported 582 animals across country with six transport vans holding up to 70 animals each. They continued to return to the affected shelters until all of the animals were cleared, safe in transport, and headed far from Harvey's harm into fosters and forever homes. The Humane Society of Louisiana, led by Executive Director Jeff Dorson, is more than deserving of our support.

We sat with Jeff Dorson this week to learn more about the organization's inspiring work.
How did Humane Society of Louisiana organization get started?
The Humane Society of Louisiana is a private animal protection charity founded in New Orleans in 1988. As leaders in the fight against cruelty to animals, we work to prevent animal abuse and neglect in all its forms. The Humane Society of Louisiana is the only local animal protection charity that speaks out for all animals of all kinds. We work to start and/or expand services and programs to help them.
This is vitally important work, because 50% of our state's parishes are without any kind of shelter or animal care services. When an animal is hit by a car most places in Louisiana, there is no agency to respond. When an animal is being neglected or abused, there is no one to help if the police don't take action - and they often don't. There are virtually no programs to help wildlife or other animals in need.

We're working to change all that by making Louisiana's communities kinder and more humane for everyone. Please join us as a donor, supporter or volunteer and help us make a profound difference for animals in need.
What influenced the Humane Society of Louisiana's decision to help Hurricane Harvey animals?
The Humane Society of Louisiana is no stranger to disaster relief. We lost our New Orleans shelter during Hurricane Katrina and have spearheaded multiple relief efforts since then. We've had our boots-on-the-ground in tumultuous times, and we're determined to help Hurricane Harvey victims.
How many Hurricane Harvey animals were saved?
We cleared out 582 adoption-ready animals from shelters in impacted areas of the hurricane.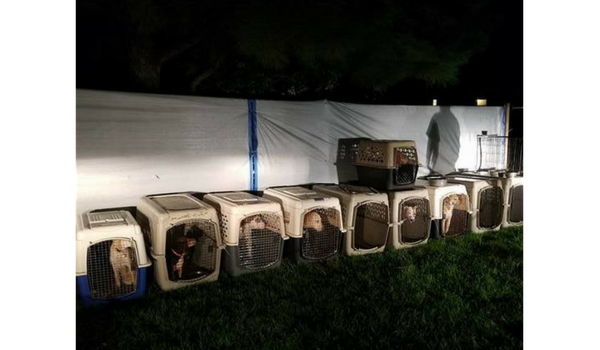 When did the Hurricane Harvey relief efforts begin?

The rescue mission of saving over 500 animals started during the first initial threats of the storm, at the time of its heavy rainfall and life-threatening flooding. After the relentless hurricane passed, we sent out 5-6 transport vehicles to Louisiana and Texas to clear out as many animals as possible.
What was the biggest funding need during the rescue mission?
The biggest monetary need we had, and still have, are for cross-country transports, fuel, van rentals, health certificates, and basic vet bills.
What are the animal's needs?
Luckily, no animals we've taken in have had any serious medical needs. All medical care was routine, which has allowed us to move forward with saving more lives quickly. The main need we have seen is to evacuate as many animals as possible, transport them safely, and allow them to find forever homes in states clear of the hurricane.
How did the Humane Society of Louisiana transport the animals from the affected area?

Our cross-country transports have enabled us to relocate animals to trusted, no-kill, non-profit, animal rescue group partners located in MA, MI, NJ, OH, ND, and NY. Each transport vehicle carries around 35-70 homeless animals. So, our volunteers would load up animals, drop them off, and then quickly return to affected areas of Hurricane Harvey to rescue more animals.
Relocating these animals to other states means there is more room in the disaster area shelters for animals who have lost their way and have the possibility of reuniting with their families...
We will continue to monitor the situation and do whatever we can to help with disaster relief efforts throughout this crisis.
To support Jeff and the Humane Society of Louisiana, visit their poundWISHES page:
https://poundwishes.com/shelter/36347/Humane-Society-of-Louisiana