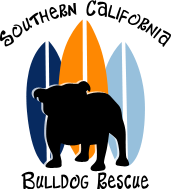 Southern California Bulldog Rescue
Southern California Bulldog Rescue provides shelter, re-homing assistance, and funds for medical treatment for over 100 bulldogs each year. These dogs come to us from animal shelters, other rescue groups, and owners who wish to surrender their purebred bulldogs. We help bulldogs in the Southern California area find suitable homes. Our network consists of many volunteers who foster, do home checks, transport, and place bulldogs who come into our program. Over 1500 bulldogs have been placed thru rescue in Southern California during the last 10 years. We rely entirely on donations for support!
We are a 501c3 organization - all donation are tax deductible. No amount is too small and every donation helps us continue to save English Bulldogs in Southern California!
Pets cared for by Southern California Bulldog Rescue
No results found for your search!
Can't find what you are looking for?
Email us at
support@cuddly.com
for assistance.