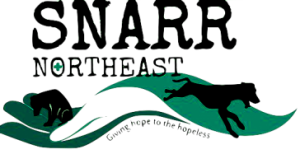 S.N.A.R.R.
Our mission is "Giving Hope To The Hopeless". SNARR Northeast focuses on those animals least likely to receive another chance based on physical disabilities, illness and varied medical needs. We strive to prove these animals in need have the desire for a second chance, the will to survive and the ability to heal and thrive with a renewed spirit. Through our efforts, we hope to inspire our shelters and the public to view these animals with the same confidence and compassion. Our goal is to educate our communities and supporters and implement necessary programs and change that will help to end the needless killings in shelters across our country.
SNARR is a non-profit 501c3 dog rescue organization. We rescue animals facing euthanasia in shelters from all across the country. Many of the dogs SNARR rescues, have special needs ( blind, deaf, broken bones paralyzed, dogs hit by cars, cancer, dogs needing specialty care etc) and would have no chance other than us. We provide them the surgeries, diagnostics, training and medical treatment that they need in order to be adopted out to their forever families.
SNARR Northeast is currently a foster based rescue organization but our long time dream is to open up a shelter where we can house our animals, do physical, swim and rehab therapy and community programs to educate and get more people involved.
We greatly appreciate any support and we depend solely on the donations of individuals.
Thank you!!!
Pets cared for by S.N.A.R.R.